Senior food program is at risk after funds reduced
The Fairbanks Senior Center is looking for donations to get through the year without dropping seniors off the Meals on Wheels food delivery program.


The Fairbanks Senior Center coordinated nearly 80,000 meals for seniors in the Interior last year. The region covering Tok, north to Fairbanks and west to Nenana kept the "Meals on Wheels" program going during the first waves of the pandemic, serving about 300 seniors.
"We were able to enhance programs to help seniors stay tucked in in their homes," said Darlene Supplee, the Executive Director of Fairbanks Senior Center.
Through the North Star Council on Aging, the center used Coronavirus Relief Funds and American Rescue Plan Act money to add seniors to the meal delivery program.
"But as we're all settling back into a norm, now that I have an abundance of individuals that came on to the program, But I no longer have those COVID funds, those ARPA funds. Then the reduction in grant funds -- the $130,000 deduction from last year to this year in multiple funding sources -- was extremely hard."
Suplee says in the next few weeks, she has to bump 50 people off the Meals on Wheels schedule. They are appealing to the community for donations.
While downscaling the meal delivery program, the center still offers in-person congregate meals. Since the main building on Moore Street is temporarily closed, a second dining location has been opened at the Shoppers Forum Mall.
"It's like great cross between a coffee shop and your neighborhood diner where people can gather round a meal," says Ashley Edgington, Volunteer Coordinator for Meals on Wheels.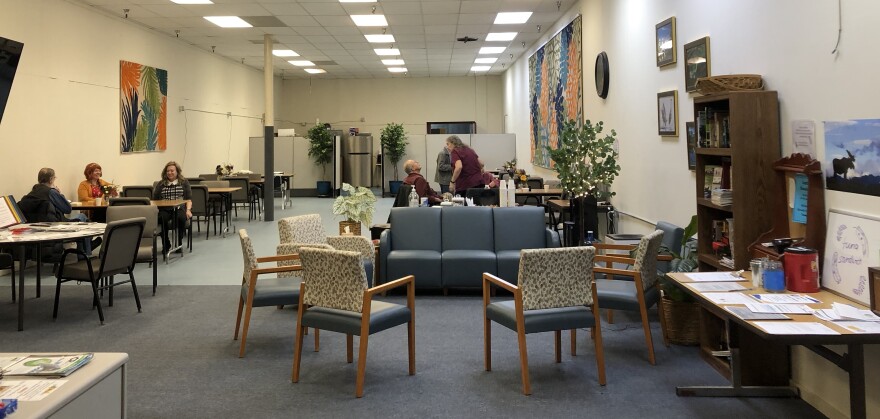 She says not only is the mall location a social space, it serves as a hub for resources like the computers and other technology that people don't have access to at home. It also connects seniors, like Violet Robinson and Cynthia Weatherby, to other programs.
"Yeah. Oh yeah. I like to use their computers and everything. You know, I don't have a computer, so I enjoy fellowship here, so that's very good," says Robinson.
"My husband and I come to get us out of the house and to meet other seniors and visit with them, get some socialization in."
The mall location is only open weekdays from 10 a.m. to 2:00 p.m. Lunch is served at 11:30.
But Ashley Edgington says more folks have been counting on the delivered meals than are coming in-person.
"Just to frame it, so prior to the pandemic, we would host about 40 people daily Monday through Friday. But we've gone from that 40 high to anywhere from two people, 17, 20. And it really fluctuates because there's a, a fear factor where our seniors that have come for years and years and years prior to the pandemic are just, they've changed their habits."
She says more drivers are again checking in on the folks they serve.
"The pandemic was contactless. We played a massive game of ding-dong ditch. I mean, show up to the house, knock and leave." Edgington says.
She says the Fairbanks area is blessed with enough drivers to serve the need. Jane Lanford is one of the volunteers dropping off empty containers outside the senior center.
"It's an easy way to help people. I'm retired now and I have my Wednesday route, and I care about the people I deliver to. I've been delivering for about two and a half years. It's just really cool to be able to meet the people and help 'em out a little bit."
The Senior Center is asking for donations of produce to stretch their supplies and keep up with demand. But Suplee says in order to serve the number of meals demanded, what they really need is cash, because food donations aren't enough, and every dollar donated goes into food.
"It's the first time in 10 years that I've been here that I have a wait list. I've never had a wait list in 10 years. We've always been able to accommodate the need."
Suplee says Alaska has the fastest-growing senior population of all the states.