State Lifts Bans on Open Burning, Fireworks in Lead-up to July 4th Weekend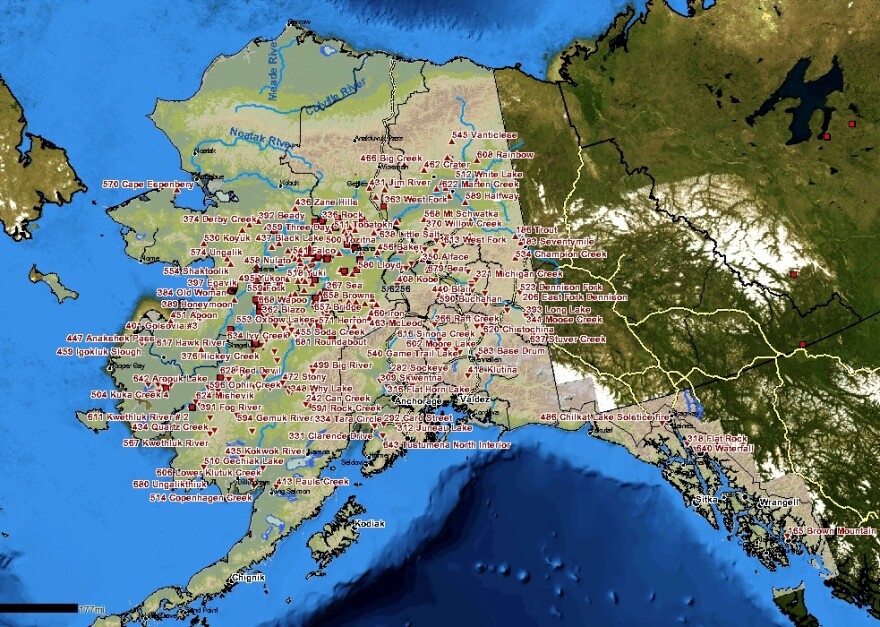 State officials lifted bans today on open burning and use of fireworks for most of Alaska. They cited a decrease in fire danger due to recent cool and rainy weather and requests by members of the public to allow cookouts, campfires and pyrotechnics for this weekend's July 4th celebrations.
Both the state Forestry and Fire Marshal's Office lifted their respective statewide bans on burning and fireworks today, with some exceptions. Forestry spokesman Tim Mowry says his agency's decision is based mainly on increased rainfall and decreased temperatures that've set in over the past few days. And forecasts for more precipitation leading up to the weekend.
"Conditions have moderated in a lot of areas, especially in anticipation of more rain," Mowry said.
Mowry says Forestry's burn ban remains in effect in the Anchorage area and in western and southwestern portions of the state. He says the latter two areas haven't gotten any of the showers that've helped reduce fire danger in the eastern Interior and southcentral.
"They're not getting any precipitation out by Tanana, Galena, McGrath area," he said. "They haven't gotten hardly anything, and fires are still pretty active out there."
Ken Frederick, a spokesman for the Alaska Fire Service, says wildfires burning on military training ranges and other federally administered lands haven't gotten much rain, either.
"Parts of the military zone – it's still pretty dry," Frederick said. "And it's going to take a lot more than a couple of days to really make a difference on those fires."
Mowry agrees, and he emphasizes that Forestry is depending on members of the public to be very careful if they build a campfire or spark a charcoal barbecue.
"We're sort of counting on them to do that, because our resources are stretched pretty thin and we don't need new fires."
Likewise, he says, with fireworks.
"Y'know, (the) public really needs to be cognizant of how dangerous fireworks can be," Mowry said. "Don't be setting off fireworks in the woods or anywhere where it's going to cause a fire."
The State Fire Marshal's Office also urged extreme caution in a news release issued this afternoon to announce that it had canceled a temporary ban on the sale of fireworks in some areas. Those include the Fairbanks North Star, Kenai Peninsula and Mat-Su boroughs, along with the Municipality of Anchorage, and the Tanana and Copper river valleys.
Mowry says Forestry's decision was based in part on numerous requests from the public to loosen restrictions, because of reduced fire danger and for July 4th celebrations.
But he suggested fans of fireworks might want to wait until later in the year, when there's less daylight to dampen the show.
"Wait 'til it's dark and you can enjoy them," he said.
Today's announcements come on the heels of news that the amount of land burned by wildfire this month had set a new record. More than 2,400 square miles were blackened in June, easily breaking the old record for the month of just over 1,800 square miles, set in 2004.
The AP reported there were 612 wildfires burning statewide as of Tuesday. The Alaska Interagency Coordination Center says more than 1.6 million acres have burned so far this year