State Asks for Mule Deer Sightings Due to Concern About Spread of Winter Moose Tick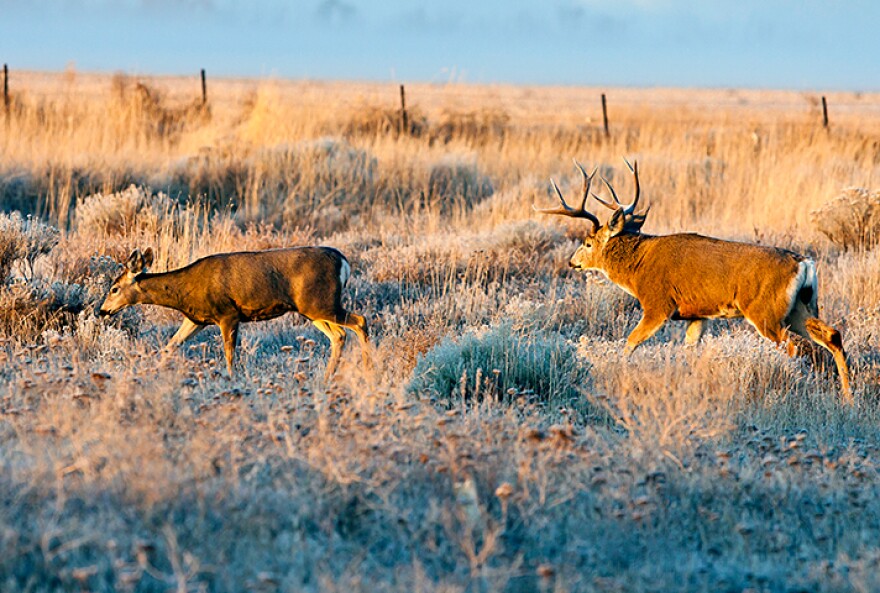 The Alaska Department of Fish and Game is asking for the public's help in reporting sightings of mule deer around the Interior. The deer isn't indigenous to Alaska, but Fish and Game experts believe the species has been slowly spreading into the Interior from the Yukon Territory. The experts are concerned they may be carrying a parasite that could devastate local moose populations.
Fish and Game wants to know about any mule deer sightings around the Interior, because experts are concerned the animals may be carrying the winter moose tick, which if it spreads could decimate the area's moose population.
"It sucks their blood and causes them to lose hair, because they're very itchy. But it causes especially the young animals a pretty high death rate, especially over winter," says Dr. Kimberlee Beckmen, the state's wildlife veterinarian. "So we don't want that to infect our moose population because it would have a negative impact on the numbers of moose that we have."
Beckmen says Fish and Game is especially interested in one particular mule deer whose carcass was found earlier this month near the Richardson Highway bridge over the Chena Flood Control Project floodplain east of Fairbanks. The buck was apparently struck by a vehicle, and didn't show any obvious signs of infection due to the ticks. But Beckmen says that could be because the animal may have died earlier in the winter, before the disease's symptoms typically show up. So they need to know when the deer died.
"It would help us decide whether there's any risk that it could've been infected with winter moose tick, or not," she said.
Beckmen says Fish and Game also wants to hear about any mule deer sightings, to track their movement into Alaska. Wildlife experts say mule deer aren't indigenous to Alaska, but they say the deer have been sighted here in the Interior every now and then since the 1970s.
"In the last 10 or 12 years, there's been an increase in the number of animals that have been sighted," she said.
Mule deer are a cousin to the Sitka black-tailed deer, found mainly in the southeast Panhandle, That's the only deer species that's historically been considered indigenous to Alaska. Beckmen says the mule deer that've been moving into the Interior apparently are coming from the Yukon. And she says that's worrisome.
"Just recently, the government in the Yukon had done a study looking at mule deer that were hunted or hit by vehicles near Whitehorse," she said. "And they found that more than half of them were infected with this moose winter tick."
The parasites have beendevastating moose population in northern-tier states and Canada– killing up to 70 percent of the populations in Maine, New Hampshire and Minnesota.
Beckmen says anyone who spots a mule deer should contact their local Fish and Game office. Phone numbers and online contact addresses are available on the Fish and Game website, adfg.alaska.gov.
Editor's note: Sightings of mule deer or sick or dead wildlife may be sent by e-mail to: dfg.dwc.vet@alaska.gov or by calling the state Wildlife Health Reporting and Information Line, (907) 328-8354.