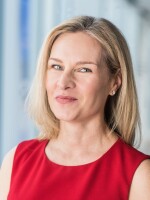 Mary Louise Kelly
Mary Louise Kelly is a co-host of All Things Considered, NPR's award-winning afternoon newsmagazine.
Previously, she spent a decade as national security correspondent for NPR News, and she's kept that focus in her role as anchor. That's meant taking All Things Considered to Russia, North Korea, and beyond (including live coverage from Helsinki, for the infamous Trump-Putin summit). Her past reporting has tracked the CIA and other spy agencies, terrorism, wars, and rising nuclear powers. Kelly's assignments have found her deep in interviews at the Khyber Pass, at mosques in Hamburg, and in grimy Belfast bars.
Kelly first launched NPR's intelligence beat in 2004. After one particularly tough trip to Baghdad — so tough she wrote an essay about it for Newsweek — she decided to try trading the spy beat for spy fiction. Her debut espionage novel, Anonymous Sources, was published by Simon and Schuster in 2013. It's a tale of journalists, spies, and Pakistan's nuclear security. Her second novel, The Bullet, followed in 2015.
Kelly's writing has appeared in the Wall Street Journal, The New York Times, The Washington Post, Politico, Washingtonian, The Atlantic, and other publications. She has lectured at Harvard and Stanford, and taught a course on national security and journalism at Georgetown University. In addition to her NPR work, Kelly serves as a contributing editor at The Atlantic, moderating newsmaker interviews at forums from Aspen to Abu Dhabi.
A Georgia native, Kelly's first job was pounding the streets as a political reporter at the Atlanta Journal-Constitution. In 1996, she made the leap to broadcasting, joining the team that launched BBC/Public Radio International's The World. The following year, Kelly moved to London to work as a producer for CNN and as a senior producer, host, and reporter for the BBC World Service.
Kelly graduated from Harvard University in 1993 with degrees in government, French language, and literature. Two years later, she completed a master's degree in European studies at Cambridge University in England.
NPR's Mary Louise Kelly talks with Gretchen Sisson, a sociologist at UCSF, who has studied whether the option to put a child up for adoption alleviates the need for a woman to get an abortion.

NPR's Mary Louise Kelly speaks with Health and Human Services Secretary Xavier Becerra on the Biden administration's ongoing response to the Omicron variant.

NPR's Mary Louise Kelly speaks with Chelsea Janes of The Washington Post about Major League Baseball's lockout and the ramifications it could have for the future of the sport.

NPR's Mary Louise Kelly speaks with Florida State University law professor Mary Ziegler about the other Supreme Court decisions that could be impacted if Roe v. Wade is overturned.

NPR's Mary Louise Kelly speaks with Mary Lou McDonald, Sinn Féin president and leader of the opposition in the Republic of Ireland, about Brexit and how cross-border relations are working.

NPR's Mary Louise Kelly talks with writer Annaliese Griffin about her efforts to avoid buying anything new during the holidays.

2021's NPR Books We Love list is here, full of recommendations from NPR staff and book critics. Mary Louise Kelly picked The Paper Palace by Miranda Cowley Heller as one of her favorite reads.

NPR's Mary Louise Kelly talks to Emily Bazelon, writer at The New York Times Magazine, on how Supreme Court Justice Amy Coney Barrett might approach a new abortion rights case the Court is taking up.

NPR's Mary Louise Kelly talks with author J.B. MacKinnon about the impact of American consumerism on the environment, and how pulling back could positively affect the planet.

As holiday shopping overlaps with historic supply chain disruptions, NPR's Mary Louise Kelly talks with Lizabeth Cohen on the economy's reliance on spending and the culture of consumerism in the U.S.